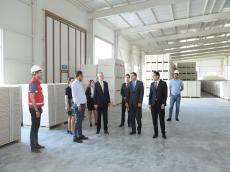 Dutch ambassador to Azerbaijan Onno Kervers has visited educational, culture and healthcare centers in Nakhchivan as part of his three-day tour of the Autonomous Republic, AZERTAC reported.

Kervers met with students of the Faculty of International Relations and Foreign Languages at Nakhchivan State University, and gave them a lecture about Netherlands-Azerbaijan relations. The Dutch ambassador then visited Nakhchivan Business Centre where he familiarized himself with local products.

Kervers also viewed Heydar Aliyev Palace, Nakhchivan Industrial Complex, Nakhchivan Cement Plant, Duzdag Physiotherapy Center and Nakhchivan State Carpet Museum.